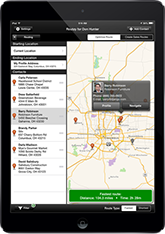 Getting face time with your contact can make a big difference when you're trying to close a deal. With each appointment carrying such value, you don't want to blow your day laboring over an intricate set of travel routes. Instead, use Routzy to generate an optimized plan in seconds.
Enter your starting and ending addresses, and Routzy will find the optimum path through all of your sales stops. Make adjustments as needed to keep specific appointments. Set your stops with confidence, because even if you get lost, Routzy won't. When things look dire, you can fire up GPS directions with the touch of a button. You won't waste another minute agonizing over the best way to plan your day.
And this is just the tip of the iceberg. Where Routzy routing really shines is in its network functionality. If one of your company's reps falls behind, you can move a few of their appointments onto another rep's route. Make this switch, and the change will automatically be sent to every one of your agents' iPad® devices.
With Routzy, the planning phase of your day can be accomplished in seconds. This software saves time, letting your sales professionals put themselves in front of more prospects than ever before.