Managing contacts and building relationships are vital components of a salesperson's job. The software your company uses for these purposes can make or break your sales pipeline. If you can't remember the last time you reached out to a particular prospect, you're seriously jeopardizing that opportunity and risking a deal.
Several customer relationship management (CRM) systems purport to solve your sales needs. Some are simple (boasting a single function), while others are so bloated and obtuse they cause more problems than they solve. Routzy® represents a happy medium; it's easy to learn and set up, but it also packs the power and functionality to eliminate the need for any other software.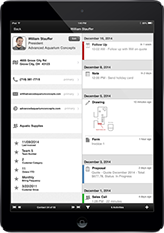 Routzy is a standalone iPad CRM app with no clunky backend, no website to register with, and no online connection required to access your data. Everything you need to go from one end of the sales process to the other is packed inside a single, portable application. With Routzy, you can create quotes and proposals on-the-fly, complete paperwork automatically, share data with co-workers, put on instant, professional presentations, and so much more.